We've prepared a spooky treat for you guys this Halloween! We know you like to have fun, you like to party and to make the most out of every holiday. That's why we've created 5 awesome Halloween Vector Masks to use if you're throwing a party, if you or your kids are going trick-or-treating or simply to have fun with your friends or to use on your designs!
All 5 Halloween vector masks are high quality work as they are created in house by one of our talented artists. All you have to do is: adjust their size (if you print them for a kid, they have to be a li
ttle smaller than an A4 sheet), print them on normal paper or a thicker paper, cut out the mask, add an elastic and there you have it – a new and scary Halloween face! Or you can use them as you wish in your design projects, it's up to you!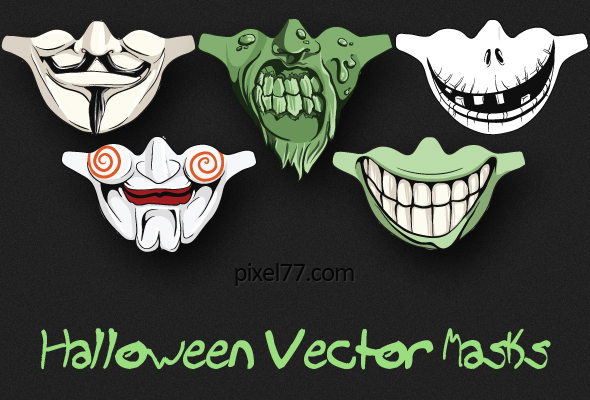 Each mask is inspired by a famous scary character or has it's own story. We've printed them just to show you how they would look (we had a laugh about it), check it out:
1. Zombie – this term is used to describe an animated corpse that was brought to life by mystical means such as witchcraft. Zombies are like a hypnotized person, without self-awareness, but ambulant and responsive to surrounding actions. Check out the movie Zombie (1979) or Day of the Dead. Beware, these movies are not for the light of heart!
2. Jigsaw – is a famous character from the Saw movie. In the movie, Jigsaw forces others through deadly trials in order to make them appreciate their own lives by testing their will to live. He received the name Jigsaw because he used to cut puzzle pieces out of the flesh of his victims if they failed an ordeal.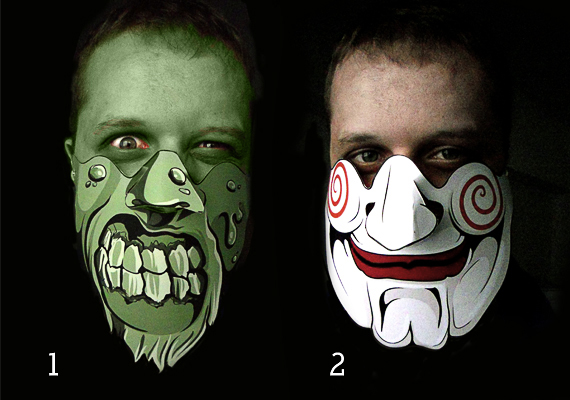 3. Guy Fawkes – also known as Guido Fawkes, was a member of the provincial English Catholics who planned the Gunpowder Plot (1605) to abolish the protestant government by blowing up the Parliament with the king and all the high class protestants inside. This mask has become known world-wide along with the increasing popularity of the movie "V for Vendetta" and now it is a symbol of anonymity.
4. Smiley – this is an over-sized smile with enormous teeth and greenish skin. It can be the smile of a huge, ugly green ogre, or the smile of The Mask. Anyway, it's a freakin' hilarious and green smile! I wouldn't like to wake up to the sight of this face in the morning!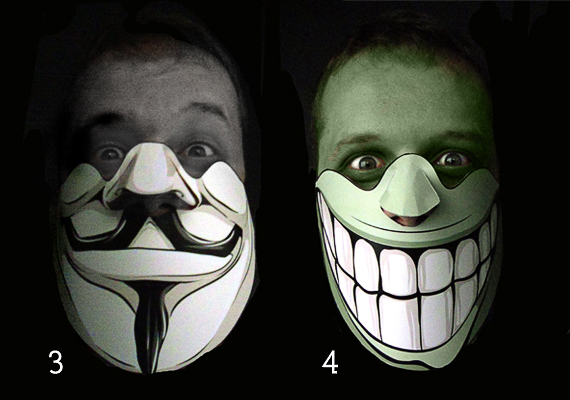 5. Jack Skellington – it's a character in Disney's '93 movie The Nightmare Before Christmas. Jack is also known as the "Pumpkin King" of Halloween town and he usually appears on this holiday as a skeleton dressed in a black pin-striped suit or a scarecrow with a pumpkin for a head.
6. Doink – he is the artist behind these Halloween Vector Masks – literally and figuratively!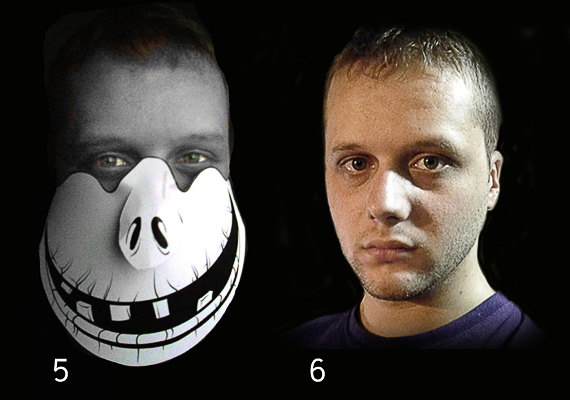 Here's what you have to do to win these cool 5 Halloween Vector Masks from us:
1. Become our friend and join our RSS feed
2. Share this giveaway on Facebook
3. Leave a comment to this post (add the email address you used to subscribe) with a link to the FB share
4. If you're already our RSS friend, all you have to do is share this post on Facebook and post a comment with the link
5. Everyone who enters the competition and does the first 3 points above will receive the Halloween Vector Masks Pack!
6. This giveaway is available from today, the 4th of October until the 14th of October. You will receive your prize on the 14th via email.
So what are you waiting for? Join the giveaway now! It's so easy to win!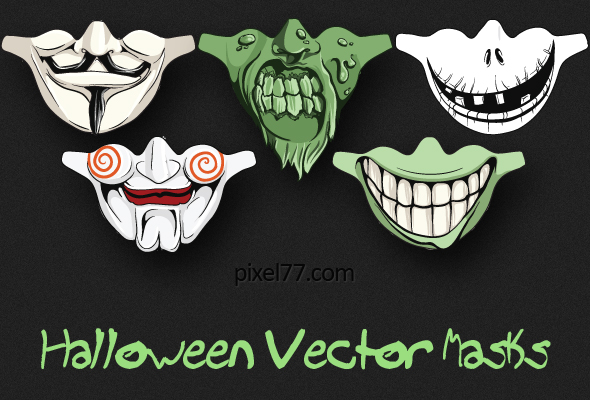 Giveaway – Win 5 Scary Halloween Vector Masks! is a post from Pixel 77